Kings Row Caloundra accommodation Kings Beach should be at the top of your list when considering your next Sunshine Coast holiday. For families and visitors to the Sunshine Coast, few places compare to the lovely Caloundra, especially for a safe and clean location with so many public amenities and things to do. Kings Row Caloundra offers superb value for money accommodation with fully self contained apartments that are so close to all the fun of Kings Beach. The apartments at the Kings Row Caloundra are all spacious two bedroom apartments, but if you are looking for more bedrooms with a touch of luxury we also manage an number of 3 bedroom penthouses in neighbouring holiday apartments. Just ask when booking for availability. These are some of the best value for money penthouse accommodation available in Caloundra.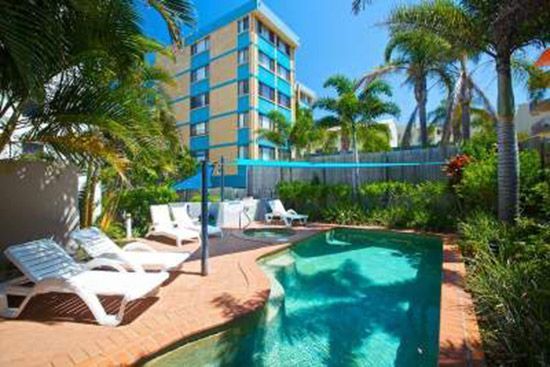 Kings Beach Holidays
Your family will love all the features of Kings Beach, with the public salt water pools and the Mets, the Metropolitan Caloundra Surf Life Saving Club restaurant and bar at the northern end of the beach. At the southern end is Tanja's Beach Pavillion and Coffee Kat. After running around after the kids, a refreshment break is always close at hand. The boardwalk that extends along the Caloundra coastline runs the entire 25 kilometre stretch from Golden Beach in the south to Mooloolaba to the north. Deciding what to do for the day is as easy as choosing which direction to take along the boardwalk.
The surrounding Sunshine Coast is loaded with day trip options. Head north for the day and explore Fraser Island, the world's largest sand island, complete with amazingly pristine ecosystems. It's an entirely unique environment that you are ever to encounter. We recommend the custom tours in the purpose-built all terrain vehicles that range from 6-seater to larger all-wheel minibus sized transports. Stop by at reception and we can book you a seat on any one of these tours at no extra cost and they will pickup and drop off at our doorstep.
For Kings Row Caloundra accommodation Kings Beach don't hesitate to book your next holiday with us. It's that easy.
How about this Kings Beach holiday accommodation? For a holiday that has accommodation with lots of space, Kings Row Caloundra has two bedroom fully self contained apartments that for the tariffs, are luxuriously huge, with superb fittings and furnishings. This very affordable Caloundra accommodation has a spectacular views looking towards Shelly Beach and Kings Beach. Preview Kings Beach from the balcony where you will see it is very suitable for families with younger kids.
On the Kings Beach foreshore you'll find the Kings Beach Public Salt Baths equipped with shade sails, a 25-metre sea-water lap pool, children's swimming pool and wading area. Being public these superb facilities are free to use and have a lifeguard on duty at all times. There is a convenient range of restaurants by the beach, as well as the Kings Beach Tavern that overlooks the amphitheater. Throughout the year there are plenty of foreshore activities and live music.
Caloundra Holidays
Caloundra is a very convenient destination to launch your Sunshine Coast holiday adventure. Travel north along the Sunshine Coast, and you won't have to go very far at all, and you will encounter Maroochydore and Mooloolaba. Each beach town has it's special charms. Maroochydore with it's river delta and network of river mouth islands that merges river and ocean, and the laid back beach life at Mooloolaba. You'll find Underwater World Sea Life in Mooloolaba where you can catch a variety of shows and performances, and experience some incredible aquatic environments from the safe and dry viewing position, unless you would like to swim with the sharks. This is an activity that is strictly optional.
For another great animal encounter, Australia Zoo is the crowd favourite. Just thirty minutes drive inland to Beerwah, the Australia Zoo needs no introduction.
Our Kings Beach holiday accommodation, the Kings Row Caloundra should be high on your list. Book now.